Make Your Own Doggie Treats!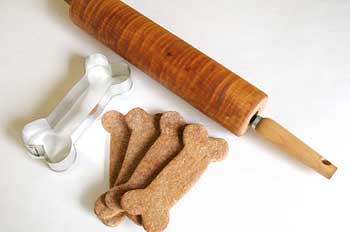 These fun, easy to make treats are perfect for any dog.
Nutty Niblets Ingredients:
3/4 cup whole wheat flour
1 cup all-purpose flour
½ cup pistachio nuts (shelled and chopped)
¼ cup natural applesauce
1 tablespoon creamy peanut butter
2 large eggs
¼ cup milk
In large bowl, combine flours and nuts. Add applesauce and peanut butter, and mix thoroughly.
In smaller bowl, beat eggs and milk. Add this mixture to flour bowl.
Roll out on floured countertop. (Try to roll dough ½" thick for best results.)
Cut out shapes, and place on ungreased cookie sheet.
Bake for 30 minutes at 325 (F). Cool on cookie racks.
(Bone-shaped cookie cutters are available at many cooking supply stores.)
Have a dog treat or food recipie you'd like to share?
Send it to us here for a chance to be published on breeders.net with a link to your listing in the article!