Natural Herbal Treatments for Your Dog
Posted by admin on June 16, 2010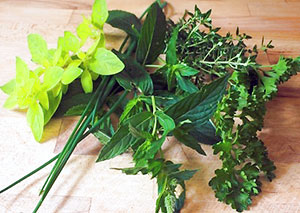 Herbs can benefit every member of your family – even your pets. Make a few herbal treats and keep them happy and healthy too!
Breath Fresh Dog Biscuits
Parsley and mint do wonders for doggy breath and general mouth health. Don't overdo the mint in this recipe unless your dog really loves the taste.
Take one cup each of whole wheat flour, ground oatmeal and cornmeal and mix well together. Finely chop four-five sprigs of fresh parsley and a sprig of mint. Mix the herbs into the meal mixture. Add ¼ cup dried milk, and ¼ cup vegetable oil into which you have beaten one raw egg and one tablespoon of molasses. Add sufficient water to make a thick clumpy dough, and form into bone shaped biscuits. Bake in a moderate oven for about 20 minutes. Give to your dog as chewy treats.
Herbal Pet Shampoo
This shampoo helps keeps fleas at bay. Use it to wash your dog' bedding and clothing as well.
To one bottle of unscented liquid shampoo (baby shampoo is ideal) add a few drops each of concentrated tea tree oil, lavender oil and citronella oil. You can coat the inside of an ordinary dog collar with a mixture of these oils to help ward off further infestations. Use apple cider vinegar diluted in water (about ¼ cup vinegar to one cup water) as a conditioning rinse to put a gloss on your dogs coat and help protect against fleas as well.
Herbal Supplements
Adding herbs to your dog's general diet will improve health in many ways. As mentioned above, parsley helps freshen breath – but while adding finely chopped garlic to your dog's food may seem to be a direct contradiction, in fact you won't notice much effect, but the fleas will!
Flea Repellant
Fill an 80z pint spray bottle with distilled water, and add a few drops each eucalyptus oil, tea tree oil and lemon oil. Spray in room corners and over doorsteps.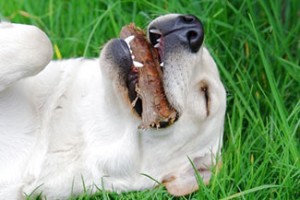 Herbal Mattress
To make a mattress for your dog that will discourage feals, fold an old blanket into a square the right size for your dog's kennel or sleeping quarters. Fold it so there are layers between the blanket material, and stitch two sides firmly with strong cotton or wool, leaving an opening along one side.
Strew dried herbs between the layers – lavender, pennyroyal, mint, rosemary and feverfew are good choices. Strong smelling herbs repel fleas. Sew the blanket tightly so that no herbs escape.
Gail Kavanagh 2008