Pet Insurance – Preparing for the Unexpected
Posted by admin on June 16, 2010
Nowadays, insurance is a way of life. It's required for our automobiles and motorcycles, it covers our homes and boats and even planes. If you're taking a trip to exotic locations like Belize or the Caribbean or even just across your state or province there are plenty of options for travel insurance. But what about your pet – does it make sense to look into pet insurance that will assist you with medical costs and care?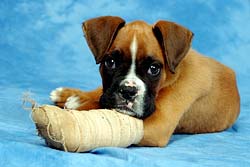 Over the last several years, the pet insurance industry has grown and matured a great deal. In earlier years, the concept of insurance for your Labrador retrievers or Persian cats was unheard of, or at the very least, very expensive, but today that has all changed as competition, a greater understanding of the needs of pet owners and support by veterinarians has increased.
A potential downside to this explosion of pet insurance awareness and availability, however, is that it can be difficult for you to make a decision on which insurance company and plan is right for you and your best animal friend. Here are some tips that may help you find a company that will give you piece of mind when dealing with insurance for anything from your teacup Chihuahua to that lovable Boston Terrier.
Price. The cost of any insurance is usually the biggest factor in making a decision on which company to use, but of course it's not always as easy as picking the most affordable. You need to take into consideration the level of deductibles, how much will be paid out and for what procedures and if there is a maximum payout. Obviously you will know what you can afford and just as with auto and home insurance, you will pay a monthly fee to the insurance carrier for coverage. For many, it's easier to pick a dollar amount you feel you can afford and then start shopping for insurance plans. It can get overwhelming with dozens of options sometimes presented by insurance companies, but if you have a set amount you can afford, it is easier to stick with that number and work around it. As mentioned above, remember to budget for annual or bi-annual pet health costs such as vaccinations, teeth cleanings and check-ups not covered by the insurance policy. It's also very important to know that for all insurance companies, you will be required to pay for veterinary expenses at the time of service and then submit claim forms to the insurance carrier. Unless you have a personal arrangement with your veterinarian to delay payment, you will have to pay upfront and then file a claim for reimbursement.
What is covered? For the most part, insurance coverage – whether it is for that Volkswagen Beetle in your garage or that miniature dachshund in your yard – is mostly about helping you defray the costs of unexpected expenses related to their care. Daily maintenance or annual check-ups are typically not covered by insurance policies (although some companies do cover these expenses) so remember that you will have expenses outside of the monthly insurance premium. Most insurance policies will have a deductible that you will have to meet, anywhere from $50.00 to $100.00 in most cases or there may be a percentage deductible of the overall cost.
Breed. As much as we would like to think that all members of certain breeds are alike, just as with humans, each animal will have its own characteristic. As such, finding coverage that is specific to an individual puppy or kitten is difficult, but know what issues might arise in a certain breed may help your decision. If you have a very active dog like sporting dogs or beagles that may find themselves taking frequent trips to the vet for cuts and scrapes or even worse, having the peace of mind of pet insurance might be worth every dime you spend. But even mild, home-bound pets such as indoor cats or poodles can have health-related problems that can be very expensive. No home is accident proof and no breed is immune to major health issues that can cost hundreds if not thousands of dollars in veterinarian fees.
Insurance Carrier/Underwriter. In the "big picture," pet insurance is a relatively new field of business, but there are a few companies that have been around for decades. Length of time in business shouldn't be your only factor in choosing a company. The key here is dealing with a company that you feel comfortable with and even better has customer testimonials. Many are national in scope and as such my not have positive (or negative) records with your local better business bureau, but it might be good to at least check your state or province's BBB. Customer Service is a key element that you will want to investigate. In general, you will want to ask the company how quickly claim forms are processed and when you can expect reimbursement because you will be fronting the cost of veterinary services.
Obtaining pet insurance can be a major decision for pet caregivers. Making that decision when your companion is young can give you piece-of-mind should any unfortunate medical situation arise. In many cases it can also benefit you financially by reducing the insurance premiums during the course of their lifetime.