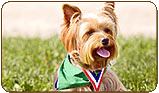 Learn all about the Yorkshire Terrier in our
Yorkshire Terrier Breed Guide



*IMPORTANT*
Breeders.net has not screened the listed breeders in all cases and accepts no responsibility for their reputation or quality.
It is your responsibility to investigate. Before you contact them, please see How to Find a Dog and our Checklist for Evaluating Breeders.